Thanksgiving will soon be upon us and no doubt you are busy getting organized for the celebration.
Something else that may be on your mind is the sales following Thanksgiving!
Black Friday (23 November 2018) and Cyber Monday (26 November 2018) are always an opportunity to find fabulous bargains, deals, and sales. Many knitting deals and Black Friday Yarn Sale last for at least four days and sometimes longer.
Our guide to Black Friday Yarn Sales and Cyber Monday gives you top tips to make sure you are ready for an excellent online shopping experience.
It is all about being organized ahead of time, setting up your computer/phone to get those bargains quickly.
We will be updating our post DAILY, be sure to come back and see what's new 🙂
Looking for more Crafty deals? Check out The Ultimate Guide To Black Friday and Cyber Monday Craft Sales here.
Black Friday Shopping is not only for Christmas but can help you stock up for birthdays, anniversaries, weddings and celebrations coming up, saving you a heap of dollars!
The Top Tips For Becoming A Savvy Bargain Hunter
Tip 1- Search Online For Those 'Got To Haves'
Researching online for those 'must haves' in advance is the way to go. The beauty of doing research online and your shopping is that it can be done from anywhere you have got internet access! Relaxing on the couch with your computer at home is much more preferable compared to the other option. Making a mad dash to a store and waiting in line with other enthusiastic shoppers. You have also got your phone.
So when you have some time, researching deals and shopping online is as simple as a few clicks.
Tip 2 – Write Yourself A-List
You have most likely got heaps of knitting items you have wished for, that would be an excellent addition to your knitting experience. Deals and sales at this time of year may mean that a new yarn winder/yarn swift or knitting machine is that much more affordable. Put together a list of 'must haves,' 'wishes' and 'gifts for family and friends.'

Tip 3- Be Organised In Advance – Set Up Accounts Now
Most online stores prefer you to create online accounts with them. If you want to save time when shopping for those bargains on the big day, sign up to the stores you wish to buy with in advance.
There are tools out there that will remember all your passwords for you. One of the best of those is called LastPass. I use it and highly recommend it. 🙂
LastPass is a great way to create and store all your passwords. LastPass also makes it super easy to log in to each of the accounts you have created, as it saves all the necessary details for you.
Tip 4 – Have A Realistic Budget For Your Spending
Finding a bargain can be super exciting! However, you can get caught up in all that excitement and see yourself overspending very quickly! Set yourself a budget of how much you can spend before you get carried away. There is no fun in maxing out your credit card and then finding you cannot pay it all back without incurring interest.
Tip 5 – Safe and Secure Online Shopping
Be mindful of shopping securely when doing so online. When arriving at any online checkout page, be sure that it is secure. You will know that the page is protected because it will have "https" in the address and there will be a little locked green padlock icon on the left-hand side of the address bar.
Tip 6 – Compare Prices
Check out different online price comparison sites such as ShopSavvy for the items on your wish list before you shop. Then you will know what the current prices are like. Then research the stores/online or offline to check who is offering the best discounts.
Tip 7 – Be Consumer Aware – Return Policies
Make sure you read the fine print of what a sale item's return policy is. Perhaps it is a short window for return or exchange only.
Tip 8 – Be a Bargain Hunter
Sign up for the retailers' e-newsletters so that any awesome deals are delivered to your inbox.
See what your Credit Card Provider reward store has on offer. Then pay for your Black Friday shopping your credit card and top up your rewards.
Tip 9 – Get Social
Keep your eyes out on retailers' social media pages, they often promote deals through twitter and facebook.
Tip 10 – Expect to Start Early – Really Early
Online stores never close so from the stroke of midnight in some cases, the super duper discounts may appear. Be ready to snag a bargain.

Editor's note:
We have had a few questions from readers about what they can expect this coming Black Friday and Cyber Monday.
So, to whet your appetite we've left some of the knitting goodness we found from last year.
In the lead up to Black Friday 2018, we will be updating this page every day as new deals are announced so make sure you check back regularly for some great deals 🙂
We contacted all of the Top 100 Knitting Bloggers and asked them if they had any brilliant Deals for you all, see their offers below.
We are featuring some fantastic deals from knitwear designers, pattern creators, and yarn stores. There is a massive list so keep scrolling down to see all the knitting sales goodness.
Cyber Monday Deals Week for 2017 at Amazon. Check out the deals on offer.
Find Great Black Friday Yarn Sales and Knitting Deals
Many major online shopping stores have got pre Black Friday sales and deals happening right now. We've got some recommendations for you to check out to help you on your way. Be sure to check back here often, as we will be updating this page as we find more great deals and offers on everything craft.
Please note some of the links below are affiliate links 🙂 Thanks for helping us keep the lights on!
Save on Yarn, needles, tools, books, knitting kits and accessories.
Use code: CYBER2017
Sale ends 11/27/2017 11.59pm PST
Save 25% off all sock needles at Knitpicks
Shop Now!!– Ends 11/28
Knit Picks has beautiful yarns, needles, and books (limited stock)
Great Deals are happening now!!
When you click on the link above, you will be taken to their Cyber Monday Sales and Deal Page. To filter the Arts, Crafts and Sewing deals, be sure to check the box in the Department section on the left-hand side.
Amazon has also announced that the Cyber Monday deals will also run for a week.
Check out all the fabulous deals for knitters and crafters at Amazon
Get early access to Black Friday/Cyber Monday Deals by signing up for their Amazon Prime Membership. You can try it for 30 days for free.
Amazon Prime membership program offers exclusive benefits for just $99 per year:
* Instantly watch thousands of movies and TV episodes
* Borrow Kindle books
* Get unlimited FREE two-day shipping (no minimum order size)
Learn More
Julie Crawford at Knitted Bliss has shared her upcoming sales. Take a look at her gorgeous patterns and be ready for the sale!
All Knitted Bliss patterns 50% off with coupon code: knittedbliss
http://knittedbliss.com/patterns/
Start date: Nov 24 at 12:01 a.m. – November 27, 11:59 pm. Eastern Standard Time.
Liesl from Buckaloo View has this fantastic deal for Black Friday Yarn Sale through to Cyber Monday.
Shoppers can have 25% off all naturally dyed yarn in their shop from with code BLACKFRIDAY
Start Date:  November 24th 12:01 am to November 27th 11:59 pm
http://buckalooview.squarespace.com/shop
Unique and colorful yarns to be found at Darn Good Yarns. They also have needles, yarn bowls, tools, patterns, and kits.

Sweet Georgia Yarns are offering 30% off of their regular priced products (yarn, fiber, patterns) with the code THANKFUL30. It does not include their Prismatic mini-skein sets or Personal Play-Along packs, but other mini-skein sets are included.
From Thursday, November 23 to end of Monday, November 27 at Pacific Standard time.
https://sweetgeorgiayarns.com/shop/
Find great yarn options for your next knitting/crochet project. Take a sneak peek at all the fabulous yarns they will be offering here, including their Black Friday Yarn Sale
Currently, they have:
Up to 50% off DK, wool, Aran, and worsted yarns!
Love Knitting will have a flash Luxury Yarn sale on the 18th November with 50% off The Yarn Collective Pembroke Worsted and Bloomsbury DK
Love Knitting is having a huge sale month with some great deals that culminate in 70% off their sale on Black Friday 70% off Sugar Blush Yarns Bold 
This will also include 50% off Rowan Pure Wool Worsted and Berroco Abode

Jane Klein from Jane's Knitting Kits has this great deal on this book-
The Knitter's Journal from Swatch to Stash.
On sale now for only $14.99 (instead of $29.95) through to December 31.
The Knitter's Journal from Swatch to Stash. ON SALE FOR ONLY $14.99 (INSTEAD OF $29.95) THROUGH DECEMBER 31

Patty Lyons Knitting Teacher/Designer/Author
Patty Lyons is offering TWO DEALS:
Thanksgiving Pattern sale
CODE: GobbleaPattern
Per-customer limits: 1 use per customer
Start date November 22, 2017, at 00:00. End date November 26, 2017, at 23:59
HAPPY TURKEY DAY!!! Take 20% off any pattern in their store & enjoy some knitting with the family this weekend! (Full sweater classes not included . . . Psst. there's another sale code for those!)
https://www.ravelry.com/stores/patty-lyons-patterns
Cyber Sweater Class Monday
CODE: CyberSweater
Per-customer limits: 1 use per customer
Start date November 27, 2017, at 00:00 End date November 27, 2017, at 23:59
Enjoy learning a few new tricks with 25% off one of their sweater classes!
https://www.ravelry.com/stores/patty-lyons-patterns
Make sure to click the red links on the pdf to launch the videos.
Join Patty's Ravelry group for Q&A on classes: https://www.ravelry.com/groups/the-patty-lyons-fan-club

Amy at Knit Collage is offering 20% off sitewide starting on Black Friday and ending on Cyber Monday, EST.
The code to use at checkout will be HIGHFIVE
Gregory from Mad Man Knitting is offering the pdf of his book of animal patterns for $5. Its 44 pages, includes the designs for a lion, bear, tiger, rabbit, and an elephant. Also, each of the animals takes only a day to make. It also includes a link to a 40-minute video tutorial on how to stuff, sew, and embroider them. The price is valid until Christmas.

Bogga at Knitting In France is offering 25% off everything in their shop (gorgeous yarns, knitting needles, stitch markers) as of now and until December 20th. No code needed.
Buy One Get One Free Knitting Up A Storm Sale
When: 11/20 until 11/27 at midnight CT.
Buy any Knitting Up A Storm Designs pattern $3.99 or higher, and get ANY pattern free! Multiple purchases welcome, no coupon necessary.
All of their patterns are priced economically, with most priced at $3.99. Here are 15 patterns that activate the Buy One Get One Deal:
13 Drops Alpaca yarns are included in the Black Friday Yarn Sale, and the sale discount on all these yarns is 30%.
The sale ends at midnight GMT on 31st December 2017. No discount code is needed.
Shop the sale at Wool Warehouse UK
Beth at Short Rounds is offering 25% off all patterns in her Ravelry store
From 7 am Black Friday (24 November) until midnight on Cyber Monday (27 November) (GMT London)
Find Beth's gorgeous knit patterns here https://www.ravelry.com/stores/shortrounds
Code required ITSTHATWEEKEND25

Ultimate Festive Bunting; Festive Bunting; Festive Bunting V2; Festive Wine Bottle Cosy; Festive Candle Cosy.
Start at 10am GMT on 24th November – 10pm GMT on 27th November
https://debbieabrahams.com/collections/knitting-kits
Code Required: FESTIVE10
A free, stitchable Katrinkles sheep ornament with any purchase of $25 or more from Loops or LoopsLove.com, while they last.
Debbie Bliss Home dog mugs will be on offer for £5.  The sale is from now until cyber Monday 12am GMT.
Shop for them here

A Friend To Knit With 50% Off Toast and Toasty Pattern
Leslie from A Friend To Knit With is offering: 50% off of Toast and Toasty
Start date: All day Thanksgiving Day and Black Friday through the end of day Monday 27th EST
Link: https://www.ravelry.com/redeem/leslie-friend-designs?code=friendsgive
Code: friendsgive

10% Off Amos & Andes The Whistler Sweater Shop
BLACK FRIDAY ONLINE SALE is for NOV 24TH ONLY.
Use the code BF17 at checkout.
www.whistlersweatershop.com

The holidays are almost upon us – which means it's almost time for Craftsy's Black Friday and Cyber Monday event! This is Craftsy's biggest sale of the year, and they are offering exciting deals all weekend long.
Class Offer:
USD 17.87 or less on all Craftsy classes
Supplies Offers:
Up to 60% off Quilting project kits & supplies
Up to 60% off Knitting and Crochet project kits & supplies
Up to 50% off Cake Decorating project kits & supplies
Cyber Monday Bonus Offer:
Free gift with purchase
Dates: Thursday 11/23 at 12:01am MST until Monday 11/27 at 11:59pm MST
Sale Terms & Conditions: $17.87 and under class offer is in USD. Excludes select classes from our partner, The Great Courses. This sale ends at 11:59 PM Mountain Time on November 27, 2017.
Shop for Craftsy courses and supplies
Creative Bug – 3 Months for Creative Bug for Only $1 Black Friday Sale
$1 gets you 3 months of art & craft classes at Creativebug
Offer ends 11/29
Cricut Sales Up to 50% Off!!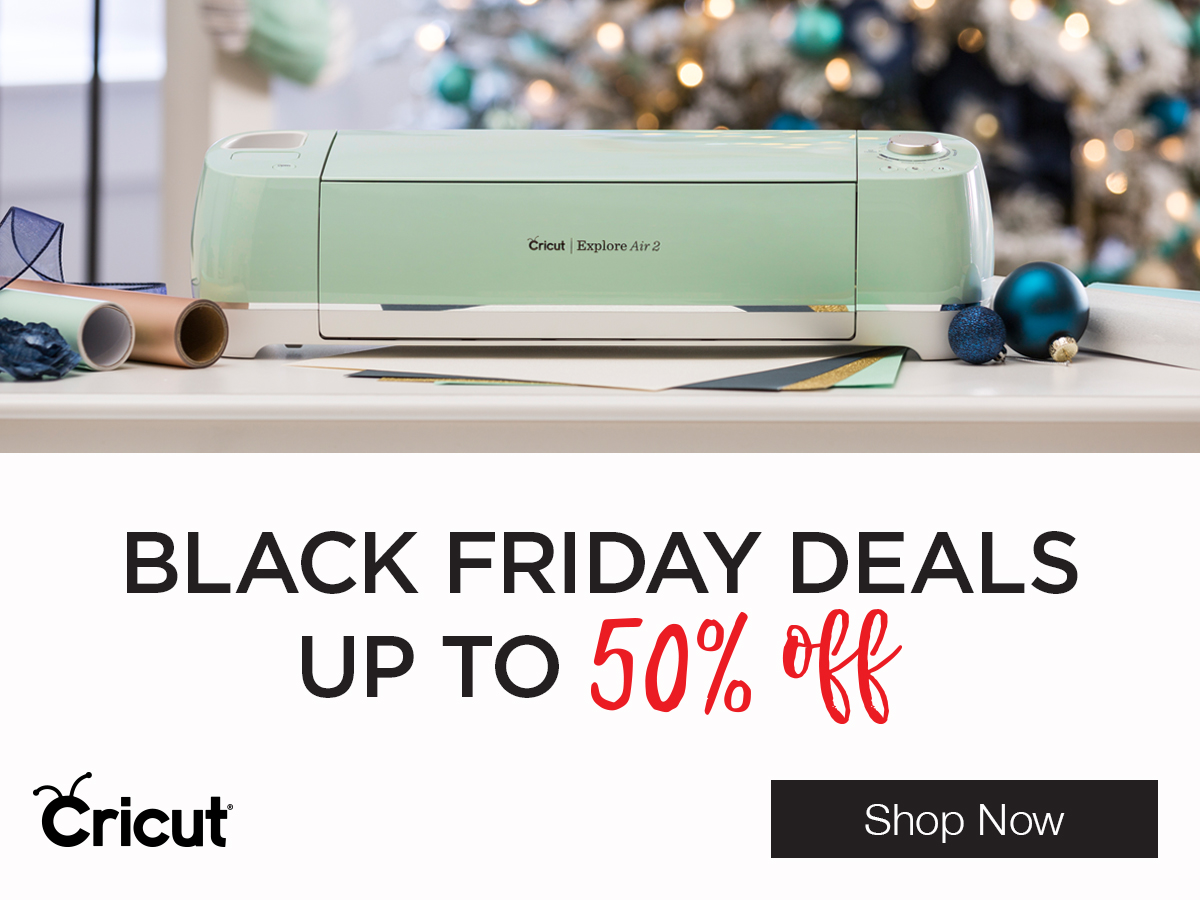 Cricut's Cyber Monday deals have been extended through the end of the day, Wednesday 11/29!
Wednesday, November 29th: 
– Spend $50, get $20 digital 
– Explore machines starting at $134.99 
– 50%* off supplies; *excludes New, bulk, bundles; + extra 20% off bulk applied at checkout 
– Physical cartridges as low as $5.99 
Also orders over $75 ship free with code FREESHIPNOV at checkout.
Valid 11/27: 50%* off supplies; *excludes New, bulk, bundles; + extra 20% off bulk applied at checkout!
Valid 11/27: Explore machines starting at $129.99!
Ravelry
Be sure to check your favorite designers and pattern creators on Ravelry for any sales they might be offering.
Knitspot has offered great deals on yarns in previous Black Friday sales
Lots of handmade and vintage goodness to be found and many of the makers will be providing Black Friday discounts.
A massive range of art and craft supplies and they offer fabulous deals, giveaways, and sales over the Black Friday sales through to Cyber Monday.
Blitsy's Black Friday Deals go live at Midnight (CST) on November 24, 2017. Show up early for the best deals of the year.
Sales continue until 12/02/2017
Get Blick promo CELB, through 12/02/17 midnight (CST):
15% off orders of $79 or more;
20% off orders of $129 or more;
25% off orders of $229 or more;
free shipping on orders of $35 or more!
Offers for Cyber Monday
15% off orders of $45 or more;
20% off orders of $89 or more;
25% off orders of $159 or more;
30% off orders of $199 or more;
FREE SHIPPING on orders of $19 or more!
Black Friday Offers:
15% off orders of $69 or more
20% off orders of $99 or more
25% off orders of $159 or more
30% off orders of $239 or more
PLUS free shipping on orders of $25 or more!
Shop and save now at Blick Art Materials!!
Use their Cyber Weekend promo code WKD2017, good all weekend long, through midnight (CST) 11/27/17
Get your arts and craft supplies from the vast range at Dick Blicks. Their sales happen on Black Friday.
Madeline Tosh Black Friday Cyber Monday Sales
The sale will start on Friday, November 24, 2017, Central Time and it will end Monday, November 27, 2017, Central Time. You can save 20-50% off. On Saturday only, from 8:00 a.m. to 3:00 p.m. there will be a 20% off Pop-Up Color Sale, where one new limited edition color or set will be available one hour every hour.
Are you in the knitting/yarn/fiber industry? Would you like us to feature your deal/sale/discount/offer? Contact me here.
Thinking of upgrading your theme or switching hosting services?
We love the themes available on Studiopress, and we are so impressed with WPX Hosting and their 24 hr customer support service, it is fantastic! Check out the incredible deals they are offering this year.
For those knitting bloggers/website owners out there, Studiopress has a great deal on their fantastic themes. If you want to give your blog an upgrade and make sure it is mobile responsive, Studiopress Themes are the way to go.
This year's Black Friday Sale for Studio Press Themes begins on
Tuesday, November 21 and lasts through Tuesday, November 28 at 8:00 p.m. Eastern Time
The offer for this year's Black Friday sale is simple:
New customers get 25% off all theme purchases.
Returning customers get 50% off all theme purchases.
So yes — the discount is valid for multiple theme orders, and it also works for the Pro Plus Pack (regular price: $499.95).
Shop for StudioPress Themes here
We are so happy with the customer service, they answer chat super quick and follow up support tickets promptly and with great care. They also help over 350 homeless dogs every day 🙂
WPX Hosting Black Friday/ Cyber Monday offers, starting from November 22nd to November 29th, 2017.
OFFER 1: Double Dealio (offer also applies to current WPX customers)
On all 2-year hosting subscriptions with WPX, everything is doubled: website slots, disk space, and bandwidth, the price is the normal one for each plan. If the customer renews on a 2-year basis in the future, they keep the 'Double Dealio'.
OFFER 2: Three For Free (offer also applies to current WPX customers)
All annual subscriptions get three months free, not the usual 2.
OFFER 3: 1 Dollar Real Deal
For new monthly WPX subscribers, their first month is only $1 and then reverts to the usual price after that.
The WPX Sales will go live from 22 November but before then, be sure to see what these savings mean here.
Have fun and let me know what excellent things you bought.
Note: This post will be updated periodically until 26th Nov.
Be sure to share this post with your other craft loving friends.
Could you do me a favor, please forward this email and share via your social networks.
Cheers  Jodie 🙂