When choosing a present for crafty knitting friends or family, it's challenging to decide. Especially gifts for the knitter who has everything!
I've included a diverse list of best gifts for knitters & the best unique gifts for knitters to suit a wide range of tastes.
If you're wondering, what are some good gifts for knitters, you're in the right place. Read my list of great knitting gifts & gift ideas.
Super Chunky Equals Super Fun!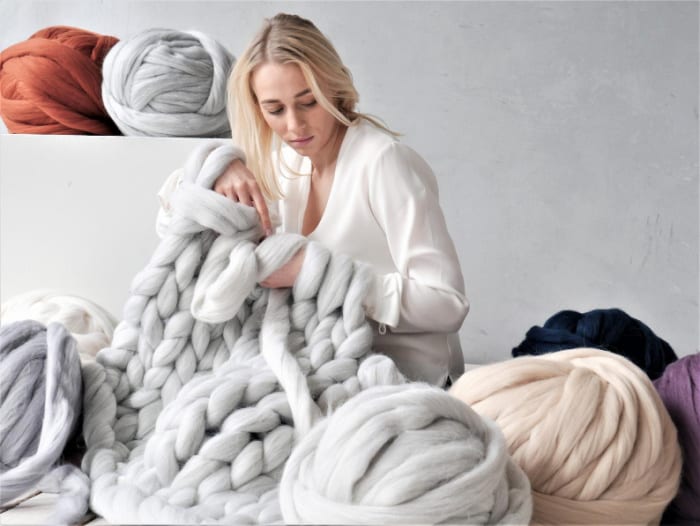 Any knitting friend would adore this luxurious wool for knitting or arm knitting a blanket. Beautiful soft giant sized merino wool.
Charm The Knitter In Your Life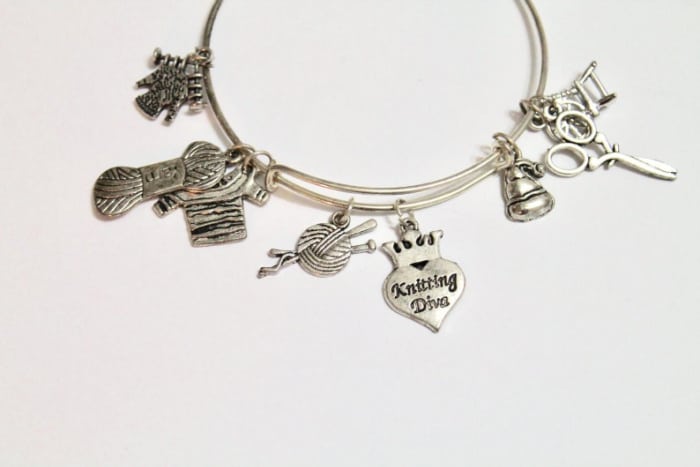 Not sorry about the pun 🙂 Gorgeous silver yarn charm bracelets with a selection of cute knitting themed charms.
Best Christmas Gifts For Knitters
Instead of knitting-themed stocking stuffers, why not these knitted mini Stockings? Adorable hanging on a tree or strung together to make a garland.
Personalized Stockings
Traditional colors & fun motifs such as trees, snowflakes, reindeer, Santa, Mrs Claus & Snowpeople. Lettering can be in different colors.
The Knitter's Library – Excellent Knitting Books
Some enjoy reading & knitting. What about both? A perfect way to pass time. Here are a few of my favorites.
I've reviewed fabulous knitting books in my article.
Vogue® Knitting The Ultimate Knitting Book Completely Revised
This fabulous knitting resource by Vogue Knitting is wonderful for someone's knitting library. So much knitting basics goodness in this book!
Click to Learn More / Buy from Amazon
Japanese Knitting Stitch Bible: 260 Exquisite Patterns by Hitomi Shida
Crafters need more than 1 stitch dictionary in their resource library. An incredible book full of Japanese stitch patterns.
Click to Learn More / Buy from Amazon
Audiobooks
Great deals on fantastic audiobooks.
Click To Learn More / Buy from Amazon
Time-Saving Solutions So They Can Get Back To Knitting
The Pure Delight Of Neat Yarn Cakes
Unwilling relatives won't have to hold skeins for hours to be wound into balls when the knitter in their lives receive a yarn winder.
The Stanwood Needlecraft Winder 4 ounce is a workhorse.
I've reviewed other yarn winders in this post.
Click to Learn More / Buy from Amazon
Yarn Swifts Go Well With Ball Winders
Pair a yarn swift with a ball winder, winding balls is be quick & easy.
Click to Learn More / Buy from Amazon
Store Knitted Projects Whether At Home Or On The Go
Yarn Storage Tote Bag – BeCraftee
Compartments for everything from current projects, needles, tools, crochet hooks & more in this storage bag.
Click to Learn More / Buy from Amazon
Woven Basket For Yarn Storage
Make someone's day by solving the problem of yarn storage. A woven basket for storing a stash in.
Click to Learn More / Buy from Amazon
Feelin' Superfine
Love the pun used on this canvas knitting tote, referring to the Craft Yarn Council Standard Yarn Weight System. A great catchall for knitting items.
Click To Learn More / Buy from KnitPicks
Project Bags
This linen pouch is reversible. Beige Linen & gray inside with leather tag. The pouch part holds your little things while you work. Makes sense to use this for a knitting travel bag.
Knitting & Cuppas
A hot cup of tea or coffee is an essential of knitting. These mugs will bring smiles to a knitter's face.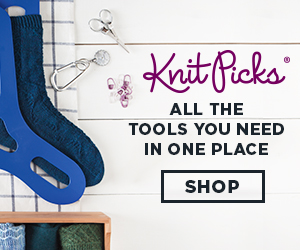 Needles, Notions, Tools & Knitting Accessories
Sunstruck Straight Needles Set
Beautifully crafted laminated birch. These sets are lightweight with sharp tapered points, & comfortable.
Includes knitting needles in needle sizes US 4, 5, 6, 7, 8, 9, 10, 10.5, 11 (3.50mm-8.00mm.)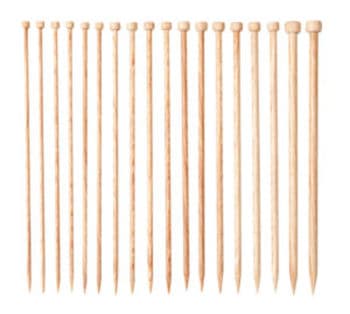 Click To Learn More / Buy From KnitPicks
Bamboo Circular Interchangeable Knitting Needles
Clover Takumi knitting accessories are enjoyable to use. Their silky finish means the fiber doesn't catch. Includes 12 needle tips & five cord lengths. You don't get a choice of cases though.
Click to Learn More / Buy from Amazon
Every Time They Use These, They'll Be Reminded Of You
Opt for a Engraved Pair of Bamboo Needles; choose the wording & font. Size USA 10, 6mm, (UK 4) 13″ long.
The engraved needles have a single line of text, up to 55 characters.
Stoneware Yarn Bowl
A beautiful ceramic glazed product by Gary of Stone Thrown Yarn to hold wool. No more chasing the ball of wool!
Sparkles The Unicorn Stitch Markers
Add some cuteness to your knitting projects & track rows with these stitch markers (a.k.a stitch stoppers), starring Knit Pick's mascot, Sparkles the Knitting Unicorn!
Contains 5 total stitch stoppers (4 balls of yarn & one crafty unicorn) on a locking clip. Largest size: US 9.
Click To Learn More / Buy From KnitPicks
Stitch Counter
Knitters can watch their favorite program & not lose count of their knitting project row or the number of stitches. A great budget gift.
Click to Learn More / Buy from Amazon
Clover Circular Stitch Holder
A convenient tool for holding stitches giving security. Great for crocheters too.
Click to Learn More / Buy from Amazon
Chill Out & Knit
Noise cancelling headphones – For when you don't want to be disturbed.
Click to Learn More / Buy from Amazon
Extra Large Pompom Maker
Who doesn't like extra large pompoms on knitted hats? Anyone can make large diy pom-poms easily with great results.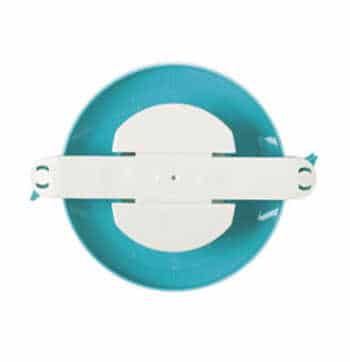 Click To Learn More / Buy From KnitPicks
Alpaca Wooden Knitting Gauge
Katrinkles makes these gorgeous knitting gauges. The knitting needle gauge's precise holes are laser cut from hardwood, perfect for measuring knitting needles from sizes 0 to 17.
US sizes & metric measurement are clearly etched above & below each hole to suit every knitter.
Sock Blockers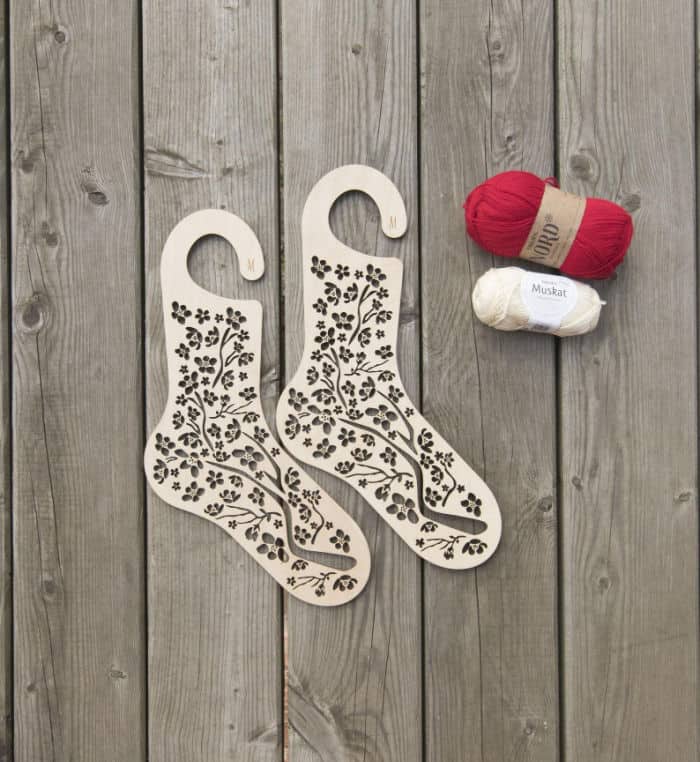 Spring wooden sock blockers for blocking knitted socks. Different sizing options.
Cable Stitch Needles
When knitting cables these are super convenient. Different sizes, the larger ones hold more stitches.
Click to Learn More / Buy from Amazon
Stork Scissors
These sewing scissors brighten the mundane task of cutting loose ends. Good option for a stocking filler.
Knitting's Done, Time To Block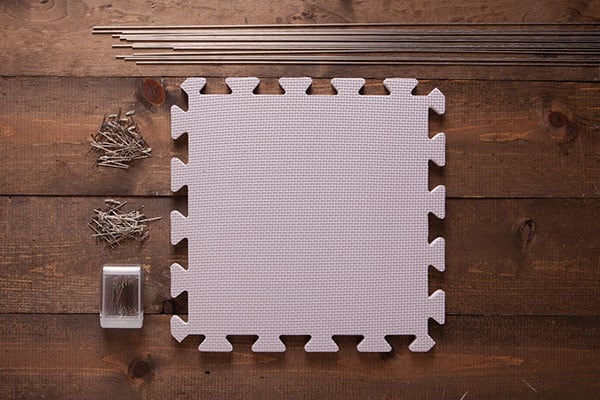 Blocking Mats make a knitter's life easier. The knitted item can be pinned with blocking pins & stretched out.
These show the true beauty of the techniques of lace or knitted fabric.
Click to Learn More / Buy from Amazon
Let There Be Light!
Helpful for knitting intricate work & also when sharing a room with others. Works well when using a dark ball of yarn. You can choose the brightness settings. Goes around the neck.
Click to Learn More / Buy from Amazon
For Knitters In The Dark
Hard to believe but, glow-in-the-dark needles!
Think of all the dark events where you've been unable to knit –
A movie theater
In bed
on the couch
Around the campfire
Now you can! It illuminates your work without disturbing others.
Stress Relief Gloves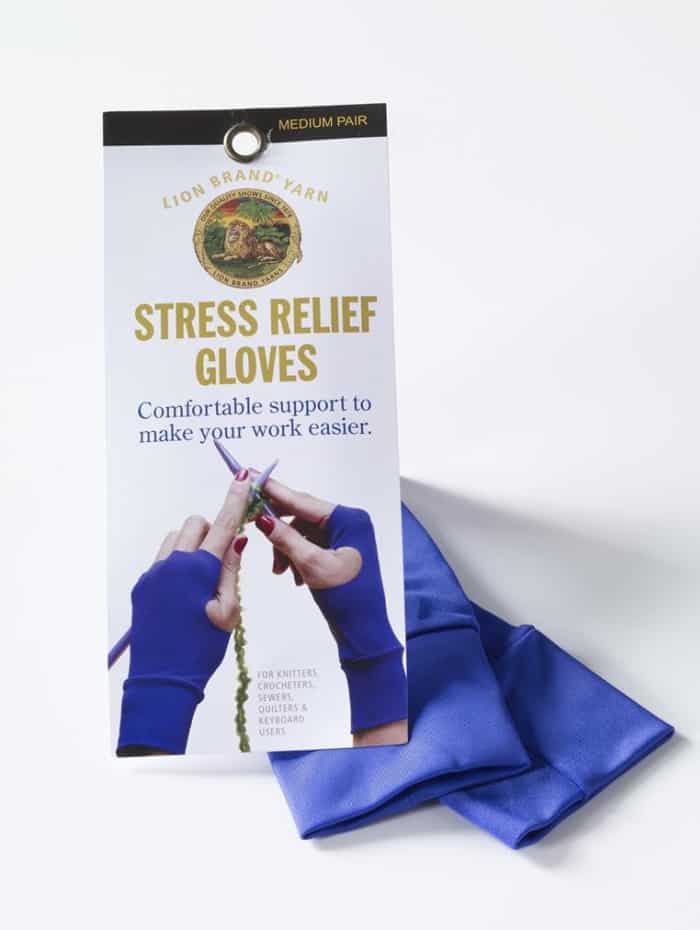 These gloves alleviate pain & stiffness without restricting movement. Lightweight, fingerless & providing support. Great Arthritis gloves for women & men.
Knitting Themed Jewelry & Decorative Pins
Celtic Design Silver Shawl Pin
A lovely knitwear accessory for the lovers of knitted shawls.
Click To Learn More / Buy From Knitpicks
Enamel Pins For Knitters
Here's a cute reminder of the knitting hobby. Attach these pins & yarn charm to knitting bags, totes, a sweater, scarves & knitting accessories.
Click to Learn More / Buy from Amazon
Snarky Knitting Pins or Magnets for Knitters | Small Gift for a Knitter | Decorate Your Project Bag
Always room for 'tongue in cheek' humor when knitting.
Dragonfly Beaded Stitch Markers
Stitch markers are used to mark pattern changes. Slide them on and off of your knitting needles as needed.
Set includes 1 lead marker with dragonfly charm and 8 matching beaded stitch markers. Rings are closed, smooth, snag free and come in 3 size choices.
Click to Learn More / Buy from Amazon
Knitting Mags & Journals – Get A Read (& Write) On!
Pom Pom Quarterly Knitting Subscription
Our readers highly recommend the Pom Pom Quarterly knitting magazine, in print or digitally. Fab project inspiration & covers the four seasons. Fabulous information. Everyone loves this mag.
Knitting Journal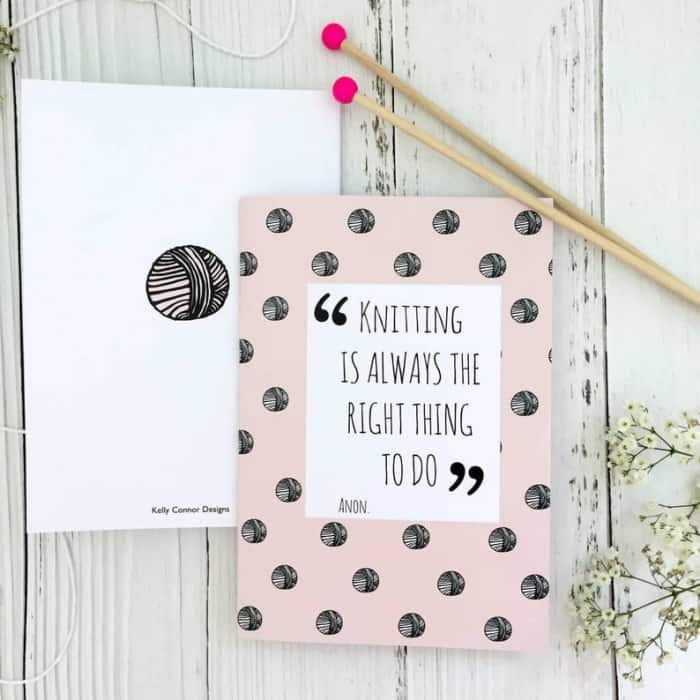 Perfect for knitters who like to keep all their notes, knitting patterns & inspiration in one organized space. Super stylish. Lovely to write in.
Mini Knitting Notebooks
Perfect for jotting down notes. Small enough to stash in a knitting bag. Five different cover designs with a cute flair.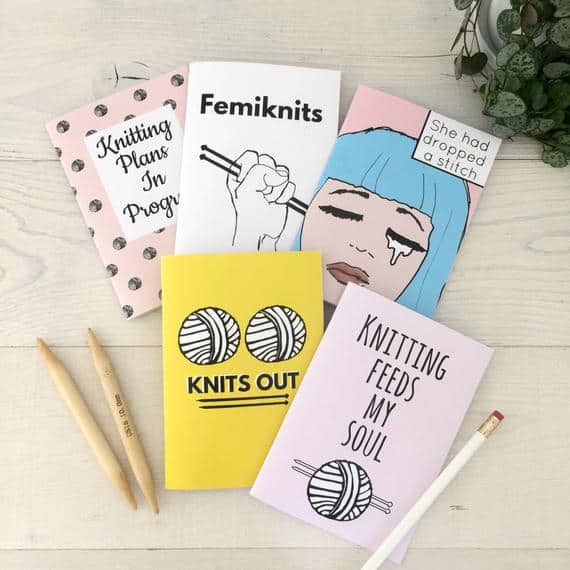 Hook Nook Yarn Passport
This 42 page book features swatch pages, grid sketch pages, section dividers, pockets for patterns, photos, & even a space for a photo of your finished projects! 8×12″ in size. Keep track of supplies or anything else.
Wrist Ruler
Chances are your knitter has a ruler but not one of these. Made from leather in the USA. The ruler is in both inch & centimeters.
Click to Learn More / Buy from Amazon
Personalized Fabric Labels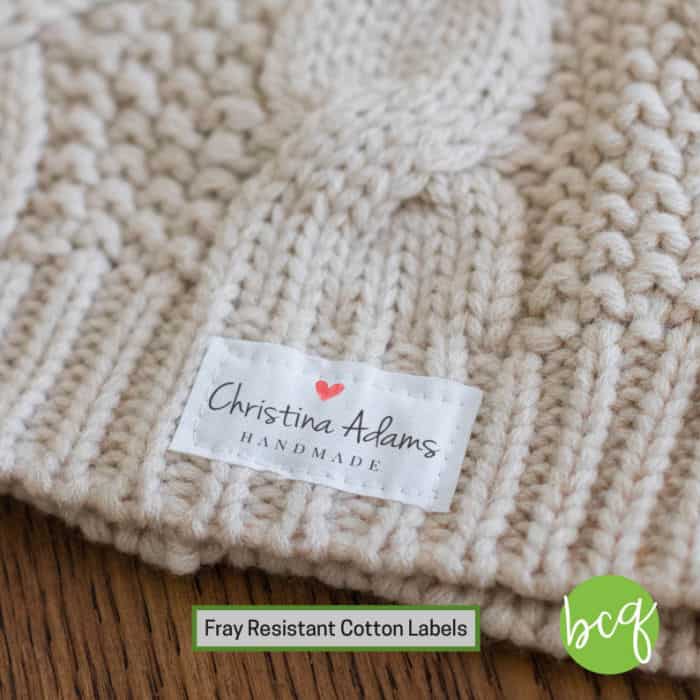 Funny Gifts For Knitters
Tongue-in-the-cheek Humor
Made by Barbara of Creativity Happens, this is classy, & keeps yarn from running around. 🙂 Make Grandma laugh!
A fun gift idea!
Knit Like Granny Knitting-Themed T-Shirts
Knitting Knowledge Poster
Vintage poster with all sorts of interesting facts about knitting
A fun poster to place on your wall
Click to Learn More / Buy from Amazon
Gifts For Advanced Knitters
Knitting Yarn Guide Ring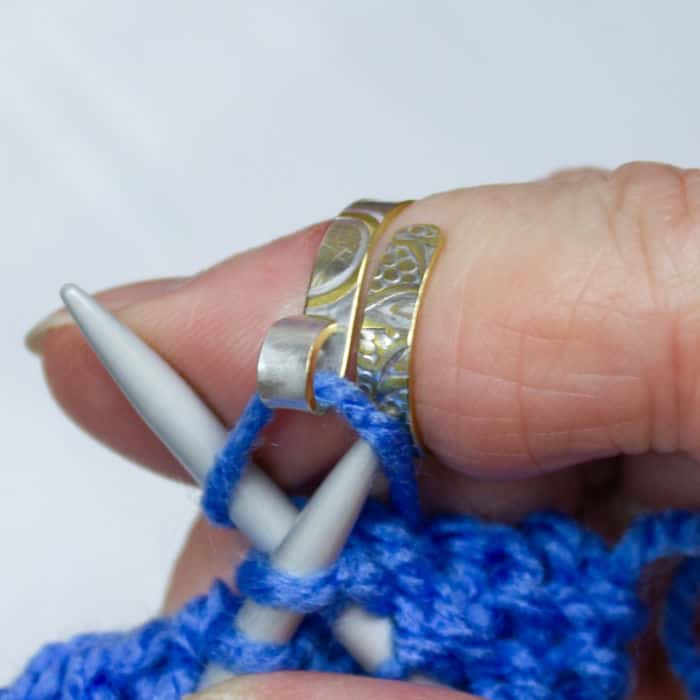 Original knitting ring design by Vera. These rings are fabricated with eco-friendly vintage silverware. Can be made to order.

The ring keeps fibers in place for faster knitting or crocheting & helps with consistent tension. Available in a variety of sizes.
A Luxurious Knitting Kit
Create knitting kits from luxurious fiber & a pattern. Look for Cashmere, Silk, Kid Mohair, Fine Merino, & Baby Alpaca.
This kit is the perfect gift to someone without going to a yarn shop. Such style!
Chiagoo Twist Tip Interchangeable Complete Set, 4-Inch
A quality, smooth interchangeable set made of stainless steel, in a knitting needle case. I love knitting with my Chiaogoo needles.
Click to Learn More / Buy from Amazon
Manequin Dress Form
Click to Learn More / Buy from Amazon
Universal Yarn Color Kit Hexababy Set
This makes a wonderfully bright & colorful cardigan for newborns & a hexagonal patch blanket to match. The yarn is Fibra Natura Dona which is 100% extra fine merino 1.75oz/126yds
Yarn Gifts
It's fair to say of course luxury yarns like Cashmere, Silk, Mohair, Baby Alpaca or fine Merino will be well-received!
Your knitter will adore one of these from Knit Picks. A gift card is another idea.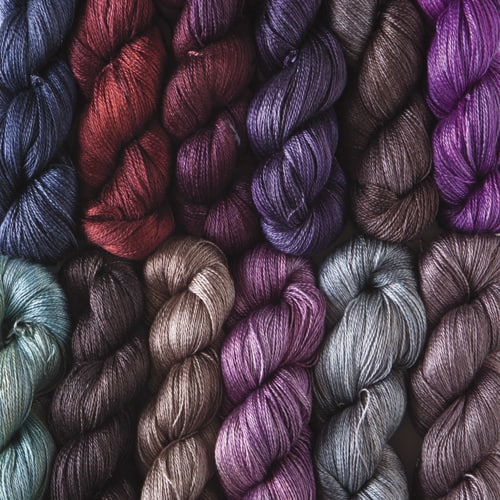 Click to Learn More / Buy From KnitPicks
Knit Afghan Block Of The Month Club
Annie's Knit Afghan Block-of-the-Month Club is a monthly subscription delivering yarn & instructions to create your own gorgeous afghan.
Knit Crate
KnitCrate Yarn Box monthly subscription has luxury fibers plus crochet & knit patterns.
Each month receive a package of yarn happiness, curated by renowned crafter Vickie Howell.
Included in each Yarn Yay aqua box, are bite-sized portions of artisanal, hand-dyed, or indie mainstay yarn, 2 exclusive patterns — one knit & one crochet, & two specialty items.
Rhythm Knits Hand Dyed Yarn
Aleida Sock
75/25 SW Merino/Nylon
464yds/100g
Fingering Weight, 2-ply
Dashing DK
80/10/10 MCN
231yds/100g
DK Weight, 4-ply
For beautiful yarn, why not a gorgeous Digital Knitting Pattern from Ravelry?

Ravelry has a huge collection of digital knitting patterns from fabulous designers. Click "Send as Gift" when checking out. (You have to be a member.)
Toad Hollow Hand Dyed Yarn
Gorgeous painted yarns from New Jersey USA. This is Ursula The Sea Witch – Length: 400 Yards; Yarn weight: 1 Fingering & Sock, Fiber: Wool & Nylon.
Knitting Birthday – Great For A Special Someone
Happy Birthday Knitting Card
Loved ones would like this colorful one showcasing their interests. PaperOrThreads create a lot of unique ones & prints them on high-quality stock.
Hand Knitted Fair Isle Socks
A lovely any occasion gift for a knitter.
I featured many high-quality & unique items in this gift list & guide. I hope you discover something!
The gifts are sure to please 🙂 To help others, share this on social media.
Pin Now to Save for Later