Why not use the internet to buy types of yarn? The benefits are many. There are beautiful, one-of-a-kind products at your fingertips to suit anyone.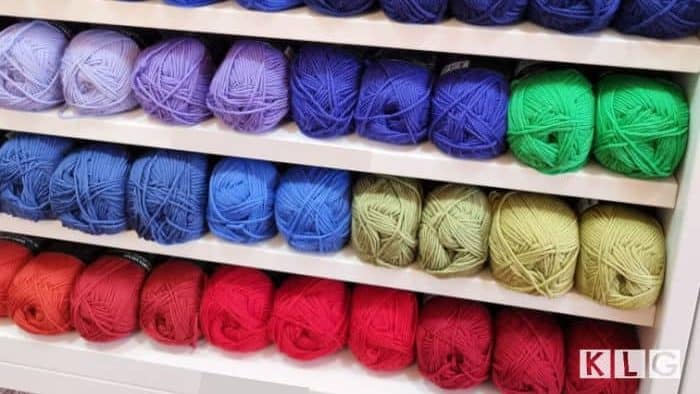 I have the best yarn companies and advice on how to buy yarns online. Look at my suggestions of sites and see what you find!
My Quick Recommendations
I reviewed, fact checked and updated this post on March 26, 2023.
Table Of Contents
Best Places To Buy Yarn Online
A collection of the best online yarn stores on the internet to buy yarns. My top recommendations are below.
Knit Picks: Best Place To Buy Yarn Online For Knitting
KnitPicks is an excellent online yarn store in this list of places to buy yarns. Because of its range and high-quality items. Founded in 2002.
An easy-to-use search filter categorizes by yarn weight, color, fiber, and more. They've developed yarn lines for specific purposes. Yarn shopping has never been so easy! Best place to get good yarn at affordable prices.
Dishie (a worsted weight) for dishcloths and Fable Fur is an ethical faux fur yarn. Their customer service team are experts and help with questions. Contact them with your email address. One of the great places on their website, providing helpful techniques, is The Learning Center section is full of helpful tips.
Recommended – Brava Worsted
Pros
This storefront is based in the US
They often use USA and Canadian yarns
Ethical sourcing
Excellent email list for their customers
Many video tutorials and posts on their blog
Affordable
Free shipping with orders over $75
Easy return policy
Quality goods and accessories, like cotton yarn and yarn for sweaters
They sell undyed yarns for a designer
Loved by many knitters
Also ships to Australia and Canada
The filters and categories make it easy to navigate
Plenty of fun patterns from independent designers
Often have promo codes for discounts
They offer excellent knitting tools
Expect a prompt reply from their support team if you need info
Cons
Some colors aren't exactly accurate to the real product
You need membership to purchase
No live chat
Started in 2002 by Laura Zander and her husband, Jimmy Beans Wool, is named after Laura's nickname. The 'beans' is from when they ran a coffee shop. They have many brands and innovative products. Plenty of selection, from cheaper acrylic to luxury yarns like cashmere.
Recommended – Madeline Tosh or Hedgehog Fibers
Pros
Family-owned company
Trusted and loved by knitters, crocheters & makers worldwide who shop there
Friendly community
A large selection of fabulous merchandise, like knitting needles and crochet hooks
The label on their products is easy to read
Unique yarns in a range of fibers
Flat Rate shipping of $5 for orders within the US, free for orders over $75
Good return policy
Easy to use website
Many complimentary patterns
Cons
More for inspiration, patterns, and knitting supplies, though you can buy yarn. Exclusive brands and many familiar favorites and staples, like Malabrigo, Paintbox Yarns, and Plymouth. Something for everyone. (Note: Love Crafts was formerly Love Knitting.) Excellent quality thick yarns perfect for using for a blanket.
Try one of their knitted baby blanket pattern, crochet blanket patterns or crochet baby blanket. They are often available as a downloadable free pattern.
Pros
Patterns, books, and inspiration for your knitting project
Products created by talented knitters all over the world
Easy to filter your search by fiber, weight, color
Varied price range on things like merino to bamboo to amigurumi yarns
Fair return policy
Easy to make orders
International shipping
Convenient navigation
Active and large community for any craft passion
Cons
Shipping prices are high
The picture may not always match the color in reality
An interesting fact – they've been family run and owned since 1878. Run by the fifth generation, they transitioned into the digital age in 1998.
Lion Brand Yarn has aged well, releasing wonderful products from a yarn line yearly. One of the best places to buy yarn. Besides a huge range of yarns, they have kits, knitting patterns, and notions.
Lion Brand is committed to positive social and environmental change. Their #hatnothate platform, is an anti-bullying program aimed at youth. Handmade blue hats are distributed across the United States. Through hands-on activities, kids are empowered to be kind.
Pros
Excellent yarn selection and yarn weights
Many free patterns, try the ones used with the self-striping Mandala yarn!
Wonderful variety of products like merino sock fiber
Excellent for searching for types of gifts
A good part is their vibrant and engaging social channels
International shipping
Fair prices for any person
Excellent return policies and star rating
The wide selection of items has great qualities
Regular clearance sales events and coupons
Affordable blends of yarn suitable for many projects
Cons
One of the yarn retailers that only sells from their brand
No free shipping
You need an account to purchase from them, which is annoying
Amazon: Best Place To Buy Yarn In Bulk Online
The giant of e-commerce sells almost everything you could want. It's the best place to buy yarn in bulk online. They offer discounts when you buy ten or more of the same yarn. It's great for yarn in bulk for a large project. For wholesale buying, go to the seller or buy from a department store.
Pros
Many sellers and different products

in any category
They sell items for beginners, advanced knitters and every skill level
If you're an amazon prime member, use the discounts and free shipping
A great place to buy the best yarn for baby blanket or knitting wool for scarves
Easy to use if you're familiar with the website already
Your online purchases in one place
Excellent range of knitting needles, from quality metal ones to bamboo
Selections of yarns from well-known yarn retailers
Buying is an easy process
Cons
Colors may not be entirely accurate
Some yarns don't ship if you live outside the US
Here are yarns I recommend in my Yarn for Baby Blankets & Yarn for Socks post.
Note: Clicking the above links takes you to further information, current prices, and customer reviews on Amazon.
Yarnspirations
A yarn shop with many popular yarn brands, like Patons, Lily Sugar N Cream, Bernat, Caron, and Red Heart. The Red Heart website redirects to Yarnspirations.
They sell patterns, notions, books, bags, and many more. Everything a knitter needs. A bright burst of color characterizes many of their yarns.
Pros
Well trusted company
Many yarn options and weights, from superfine to worsted weight yarn

Prompt and trackable shipping

Reachable by email if you have trouble, quick and friendly responses
Great price range, especially on blanket yarn and specialty yarn
Free patterns available
Ships to the United States, the United Kingdom and internationally
Sign up for their weekly emails to receive great deals and information about what's on sale
Cons
Few luxury or handcrafted options
Fabulous Yarn
A luxury yarn store selling beautiful, handcrafted yarn balls. It's a small, independent yarn company with a small yarn store in the NY State area. They have lovely wool yarn from sheep and alpaca. Plenty of beautiful wool dreaming of being added to your yarn stash!
Pros
Many high quality hand-dyed luxury skeins to make lovely knits
Wool yarn and a lot of plant fibers of all weights
Their fibers are soft on the hands
Great specialty yarns you won't find anywhere else
Fast and international shipping
Good returns policy
Free shipping in the US for orders over $75
Cons
Smaller range than most yarn stores online
Purl Soho
A family-owned business with a physical brick-and-mortar location and online. Purl Soho was founded in 2002. They have exquisite knitting supplies and yarn!
Beautiful ideas for your next project and something to suit any tastes. They focus on diversity and pay great attention to their clientele. Online yarn shopping is super easy as the images are so inticing!
Pros
Beautiful quality products, like needles, brand yarns, and bags/pouches
Much effort put into their selection and texture of their fibers
This platform has extensive resources on many crafts
Everything comes from an ethical source
Hand-dyed skeins of many colors to fit any needle or hook size
Hundreds of positive reviews
Transparent and excellent return policy makes life easier
Easy to make and manage orders so you can get back to your hobby faster
Good sales during the holidays
They have short classes for how to master certain techniques on their YouTube channel
Cons
High shipping fees
Less items than most companies
Great Places To Buy Yarn Online Comparison Chart
Looking For More Recommendations? Here's The Thing.
Etsy (An excellent place to look for the best arm knitting yarn)
Joann (Great for beginning knitters and crafters)
WeCrochet (Your ultimate destination for crochet yarn. Their shipping rates are the same as their sister company KnitPicks)
Darn Good Yarn
FAQS About Buying Yarn Online
Why Should You Shop At Online Yarn Stores?
Shopping for yarn in a yarn store is an experience. Yarn stores are lovely places, full of yarn. Times are changing with the purchasing preferences of knitters. (1)
You can also feel the wool. Buying yarn online, you can't touch the product. You have to rely on your eyes. That's the only downside to the best places to buy online. There are many reasons to shop online, including
If you have limited mobility
If yarn stores aren't near where you live
If you don't have transport options
If you don't feel like going out!
When you can't visit a craft store
Deals and discounts aplenty
Takes little effort
Convenience, as it's easy to do a quick shop
Anything you order is delivered straight to your door
Spoiled for choice
For getting brands or other stock not accessible otherwise
When you can't leave home
How Do I Shop For Yarns Online?
Here's a quick guide.
Browse through the yarn shops to choose a yarn store
Click on the link to open it in your browser
Use the tips below to choose the perfect yarn
If you don't know what project to try, use the pattern finder on Ravelry
Add it to your shopping cart, browse around for other things you need to buy.
Apply a discount code if you have one
Pay for your order at the checkout.
Arrange the shipping
Celebrate! Your purchase will arrive in the mail!
If you get stuck, every yarn company has dedicated customer service. They'll supply you with the help you need.
Things to Consider When Shopping At Online Yarn Stores And At Websites Of Brands
What season is it?
What will this be used for?
What functions will it have?
How often will I use this item?
Is the knitted project for a baby? Therefore the fiber needs to be soft.
What sort of care will it need? Will I want to wash this item frequently?
What color best suits the person the knitted project is intended for?
What color matches your home décor?
How much do you want to spend?
Knitters should enjoy the yarn they interact with. A project takes time, patience, and everything from the color, to the weight, texture are essential components to a successful and beautiful handmade project.
The point of choosing the right yarn is making wonderful handcrafted items for yourself, family, friends, and loved ones.
Pin For Later
Good To Remember Your Yarn Symbols & Fiber Labels!
Yarn labels are essential. They have the specifics of the product. Like:
Yarn Weight – Ranging from 0-7, it explains how thick it is
Gauge – Am estimate of the recommended gauge
Needle Sizing – Recommended needle sizes.
Yarn Amount – How much you get in one ball
Care Instructions – How to wash/take care of the material
Make a checklist of what you need, and reference this.
Remember This When Buying Yarn Online For Your Projects
Keep track of what you need! Refer to your pattern/project guidelines.
Read The Product Description, They contain important information on all aspects of the item. Don't want to miss something important!
Read Customer Reviews. When you can't test or see the yarn, read the reviews on the yarn page. Does it wash and knit up well? Is it colorfast? Does it knit up well? People include these details and more.
Watch Out For Great Bargains & Sales: Yarn websites run regular sales or savings. Keep an eye out so you can take advantage of them! Keep track is by signing up for the newsletter. Often, they offer 10-15% percent off your first purchase.
These aren't just promotional email lists. They include knitting techniques, tips, tricks, and smart ideas.
Or follow the company on social media, like on Instagram or Facebook. Sometimes they post about offers. They'll often have limited-time deals. Online stores run clearance sales too!
Fibers for winter (wool, mohair, or alpaca) are in clearance during warmer months. You'll find yarn for summer is cleared during colder months. Another way to save is by buying a kit. The yarn is cheaper, plus materials and patterns are included. Sometimes they have boxes or a bundle pack.
Returns, Exchanges, Refunds: Not happy with your purchase? Return, exchange, or get it refunded. Read the return policy from the company.
Which Is The Best Yarn To Buy?
It depends on the item, what fiber you prefer, what colors you need, what weight, and how much of it you need. Use your pattern as guidelines for the yarn you buy.
Where Can I Buy Inexpensive Yarn?
Knit Picks offers brilliant affordability and knitting yarns for low prices. Amazon is an excellent spot to buy yarn in bulk for a discounted price. These two places are my top recommendations. The rest are still great! Other places to access.
Webs (they sell Noro Silk Garden Sock yarn, knit stitch kits, merino superwash, and weaving supplies like spinning wheels.)
Eat Sleep Knit
Michaels.com
Hobbii (based in Denmark)
Knitting Warehouse
Box stores
Try craft stores and your local yarn store! You might make some friends.
Conclusion
I hope the content in this resource of the best online yarn shops was helpful. What's your favorite online yarn manufacturer or your best place online to buy yarn from? I'd love to hear your thoughts in the comments.
References
Stacey Trock, Yarn Industry News Update: January 2020. Retrieved from https://craftindustryalliance.org/yarn-industry-news-update-january-2020/, Feb 2020