Luxury yarn is more expensive than the average person wants to pay. But it's worth it for the joy of knitting with high-quality fiber. My guide has the best luxury fibers so you can knit your next project in style! Here are my favorites.
These luxurious yarns are incredibly soft, beautiful blends. Good for crochet too.
My Quick Recommendations
I reviewed, fact checked and updated this post on May 14, 2023.
Table Of Contents
What To Look For In Luxury Yarns
Here are some key decision-making factors to consider when choosing the best luxury yarn.
What Kind Of Care Does It Need?
With most luxury yarns, handwash and dry flat in the shade. This way, your beautiful knits from the best wool yarn last for decades. Most luxury merino yarn is made from fine merino wool, not superwash merino wool, so handwashing is necessary. I'd also recommend handwashing alpaca yarn.
With arm knitting yarn, it's usually wool roving, which you need to handwash. Use it when learning how to knit with your arms.
What's It Made Out Of?
Luxury fibers come from animal fibers: Qiviut – Muskox, Mohair – Goats, Merino – Sheep, and Silk – Silkworms. Also, superfine alpaca.
How Much Yardage?
The pattern determines the yardage depending on the project you want to knit. Luxury fibers are usually sold in smaller yardages per skein.
What Yarn Weight Is Best?
The yarn weight varies in luxury yarn. Your knitting pattern will guide you.
What's Your Budget?
Regarding price, luxury yarn is called that for a reason! "How much I am willing to spend?" is something only you can answer. Luxury yarns are beautiful and definitely worth the investment.
Alaska Qiviut Deep Blue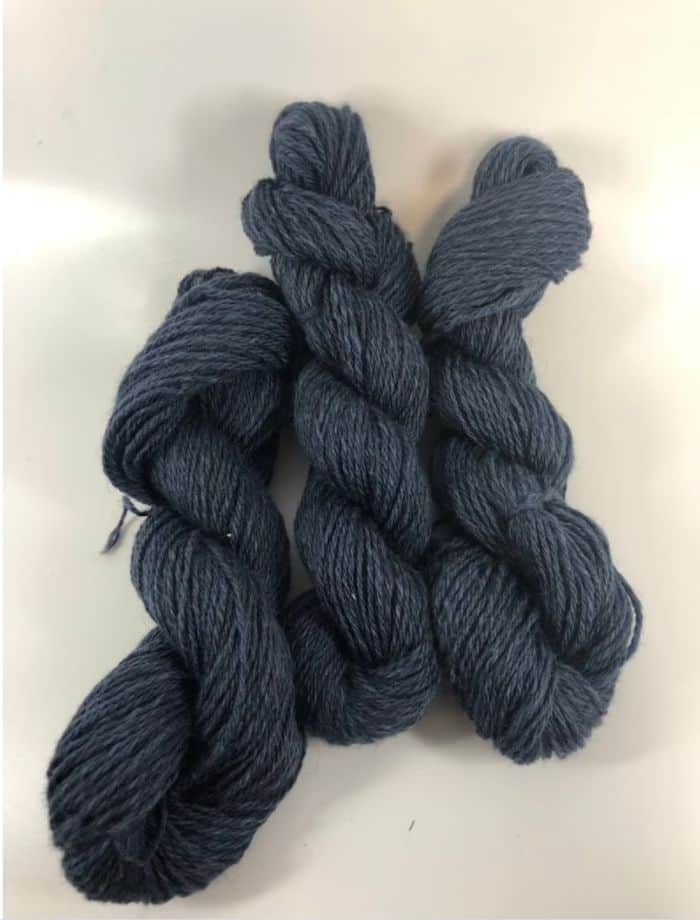 This luxury brand yarn is hand combed by Inuit villagers from Nunivak Island Muskoxen pelts. It's taken to a small mill only using Alaskan fibers for processing.
How Does It Compare?
Care Instructions – Hand wash, dry in the shade.
Made Of – 80% Qiviut, 20% merino
Yardage – 200 yds
Yarn Weight – 0 Lace /2ply
Skein Weight – 1 ounce
Pros
Never stretches, felts, or shrinks with proper care
Super soft
Long-lasting
Cons
Naturally-Dyed Mohair
This ethical mohair fiber yarn is uniquely soft. Light and luxurious.
How Does It Compare?
Care Instructions – Gentle hand wash in lukewarm water with mild wool detergent. Dry flat away from direct sunlight.
Made Of – 72% Kid Mohair, 28% Mulberry Silk
Yardage – 438 yards (400m)
Yarn Weight – Lace
Skein Weight – 1.8 ounces (50g)
Suggested Needle – US 1.5 (2.25mm
Pros
A luscious feel
Natural dyes
Better for the environment
Knit in a single thread or double
Cons
Limited stock
Colors may look different from the image in reality
Majestic Midnight Hand-Dyed Yarn
Lovely hand-painted yarn available on many luxury bases. This yarn is dyed to order. Choose from 18 different blends. Including:
Baby Alpaca
Brushed Suri Silk
Alpaca/Silk
Alpaca/Silk/Linen
How Does It Compare?
Care Instructions – Hand wash and dry flat to air dry
Made Of – Depends on your choice
Yardage – Varies with the yarn base. The Baby Alpaca Sock Weight is 429 yards
Yarn Weight – Fingering to chunky
Skein Weight – 50g to 100g
Pros
Amazing texture
Vibrant colors
Attention to detail
Excellent customer service
Each skein is hand-painted, so it's one-of-a-kind
Cons
As with most hand-dyed yarns, each skein differs slightly.
No returns or cancellations.
Bitterroot Rainbow
Super soft and produces remarkable warmth when made into garments. Also, the finished object is lightweight.
How Does It Compare?
Care Instructions – Use a mild shampoo to gently wash in warm water, squeezing carefully to remove excess moisture. Roll in a towel to further remove excess moisture. Lay flat to dry.
Made Of – 70% Qiviut (Muskox) 20% Australian Merino 10% Cultivated Silk
Yardage – 300yds
Yarn Weight – Lace
Skein Weight – 1 oz
Suggested Needle – US0-US5 depending on the fabric you wish to create.
Pros
So soft
Beautiful colors of green, red, yellow, and blue
Hand-painted
Doesn't pill
Lovely against the skin
Suitable for any knitter!
Perfect for neck warmers and cowls
Cons
Roving Merino Wool
Super-soft extreme-sized wool for felting, spinning, weaving, and wall hangings.
How Does It Compare?
Care Instructions – Hand wash and dry flat
Made Of – 100% Merino Roving
Yardage – 96 yards
Yarn Weight – Jumbo
Skein Weight – 8 lbs
Pros
Soft and fluffy
Excellent for all projects
Cons
Only in natural cream
Be gentle as it can tear
To Live Would Be An Awfully Big Adventure
This yarn is a delightful blend of wool and Silk. Blueface Leicester wool is known for its beautiful luster, sheen, and drape.
How Does It Compare?
Care Instructions – Machine wash on delicate cycle and tumble dry on low
Made Of – 55% Superwash Blueface Leicester and 45% Silk
Yardage – 231 yards
Yarn Weight – Light worsted
Pros
Dyed with environmentally friendly products
Beautiful colors
Clever name
Cons
Which Of These Yarns Is Best For Knitting?
Alaska Qiviut Deep Blue – Knitted garments close to the skin
Naturally-Dyed Mohair – For lace shawls and sweaters
Majestic Midnight Hand-Dyed Yarn – If you are looking for a range of luxury bases
Bitterroot Rainbow – For delightful softness and sheen
Merino Roving Wool – Arm Knitted Blankets
To Live Would Be An Awfully Big Adventure – Adds sheen with beautiful drape
Comparable Products To Consider
Take a look at the gorgeous Cashmere yarns I've reviewed. Cashmere is a luxury yarn knitters highly recommended. Checking out Orchidean Luxury Yarns might be good too. Knit Picks has some luxury yarns, and offers free shipping in the US.
FAQS About Luxury Yarn
Where To Get Luxury Yarn?
Local Yarn stores stock a range of luxury yarns. Etsy has a beautiful range of options from talented yarn dyers. Larger online retailers specialize in these types of yarns.
What Is The Best Place To Buy Cheap Luxury Yarns?
To buy cheap luxury yarns isn't easy. Luxury yarns are made of expensive fibers. However, they will be your most treasured knitted items. Unfortunately, luxury and cheap don't go together.
What Are The Top Luxury Yarns On A Low Budget?
Top luxury yarns on a low budget aren't an option.
Who Sells Diamond Luxury Collection Llama Soft Yarn?
Diamond Yarns have discontinued this yarn line.
Conclusion
If luxury is what you're after, luxury yarns are perfect. They come in a range of fibers and colors to make your knitting experience unforgettable. Do you have a favorite? Tell me in the comments.
Pin Now to Save for Later